In the fast-paced digital landscape, having an optimized website is paramount for online success. To achieve this, businesses and website owners turn to free website audit report tools, essential instruments in the realm of Search Engine Optimization (SEO). These tools provide valuable insights into a website's health, helping uncover areas that need improvement. In this blog post, we'll explore some of the top free website audit report tools, highlighting their features and benefits.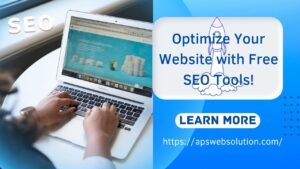 Google Analytics: The Powerhouse of Website Analysis
When it comes to website analysis, Google Analytics stands tall. This free tool offers an array of features, including detailed traffic data, user behavior analysis, and conversion tracking. By understanding how users interact with your site, you can make informed decisions to enhance its performance.
SEMrush: A Comprehensive SEO Toolkit
SEMrush is a versatile SEO tool that provides a free version with limited but valuable features. It offers a thorough website audit, uncovering issues related to on-page SEO, backlinks, and technical SEO. With SEMrush, you gain access to critical data that can be instrumental in improving your website's visibility on search engines.
Moz: Your Go-To for In-Depth SEO Insights
Moz is renowned for its insightful SEO tools, and its free version doesn't disappoint. With features like keyword research, on-page optimization, and link analysis, Moz provides a comprehensive view of your website's SEO performance. It also offers valuable recommendations for improvements.
Ahrefs: Unearthing Backlink Opportunities
Ahrefs is a powerful tool for backlink analysis. While its free version has limitations, it still offers a glimpse into your website's backlink profile, allowing you to identify potential opportunities for improvement. Understanding your backlink landscape is crucial for building a strong SEO foundation.
Screaming Frog: Delving into Technical SEO
Screaming Frog is an excellent choice for technical SEO analysis. It crawls your website, providing detailed reports on various technical aspects, including broken links, duplicate content, and page speed. This tool empowers you to address critical issues that may be hindering your website's performance.
Conclusion: Empowering Your Website with the Right Tools
By leveraging these top free website audit report tools, you're equipping yourself with the insights needed to enhance your website's performance and visibility. Whether it's understanding user behavior, optimizing on-page elements, or addressing technical issues, these tools play a crucial role in your SEO strategy.
For a comprehensive and tailored approach to website analysis, look no further than apswebsolution.com. With a combination of cutting-edge tools and manual audits, the experts at apswebsolution.com craft personalized strategies to boost your website's organic performance. Trust in their expertise to lead your website to new heights in the digital realm. Elevate your digital presence with data-driven decisions, and let your website shine in the search engine spotlight with apswebsolution.com by your side.